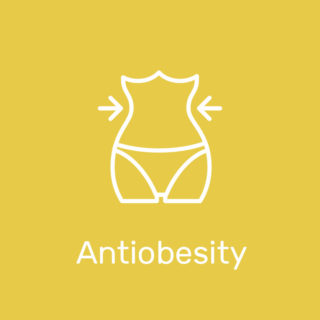 Therapeutic Antiobesity Line
Obesity is the main factor that unchains cardiometabolic diseases such as diabetes and hypertension, Mexico occupies the 2nd place in adult obesity worldwide and it has become one of the topics of highest priority in public health services due to the high costs they imply.
Slender-Duet® | Orlistat/ L-Carnitine
It's indicated as support for a hypocaloric diet and exercise in obese or overweight patients, including ones presenting risk factors associated to obesity. It allows for an efficient, long term control of weight (weight loss, maintenance, and preventing weight gain).
Presentations
Box with thirty 120 mg/200 mg capsules

Box with sixty 120 mg/200 mg capsules


Box with ninety 120 mg/200 mg capsules
Consultar IPP
Slender® | Orlistat
It's indicated in the treatment of obesity, during weight loss and in maintenance along with a hypocaloric diet. It is also indicated in patience with risk factors associated to obesity, such as hypercholesterolemia, type II diabetes, hyperinsulinemia, glucose intolerance and hypertension.  
Presentations
Box with thirty 120 mg capsules


Box with sixty 120 mg capsules

Box with 120 120 mg capsules
Consultar IPP
Productos de Prescripción